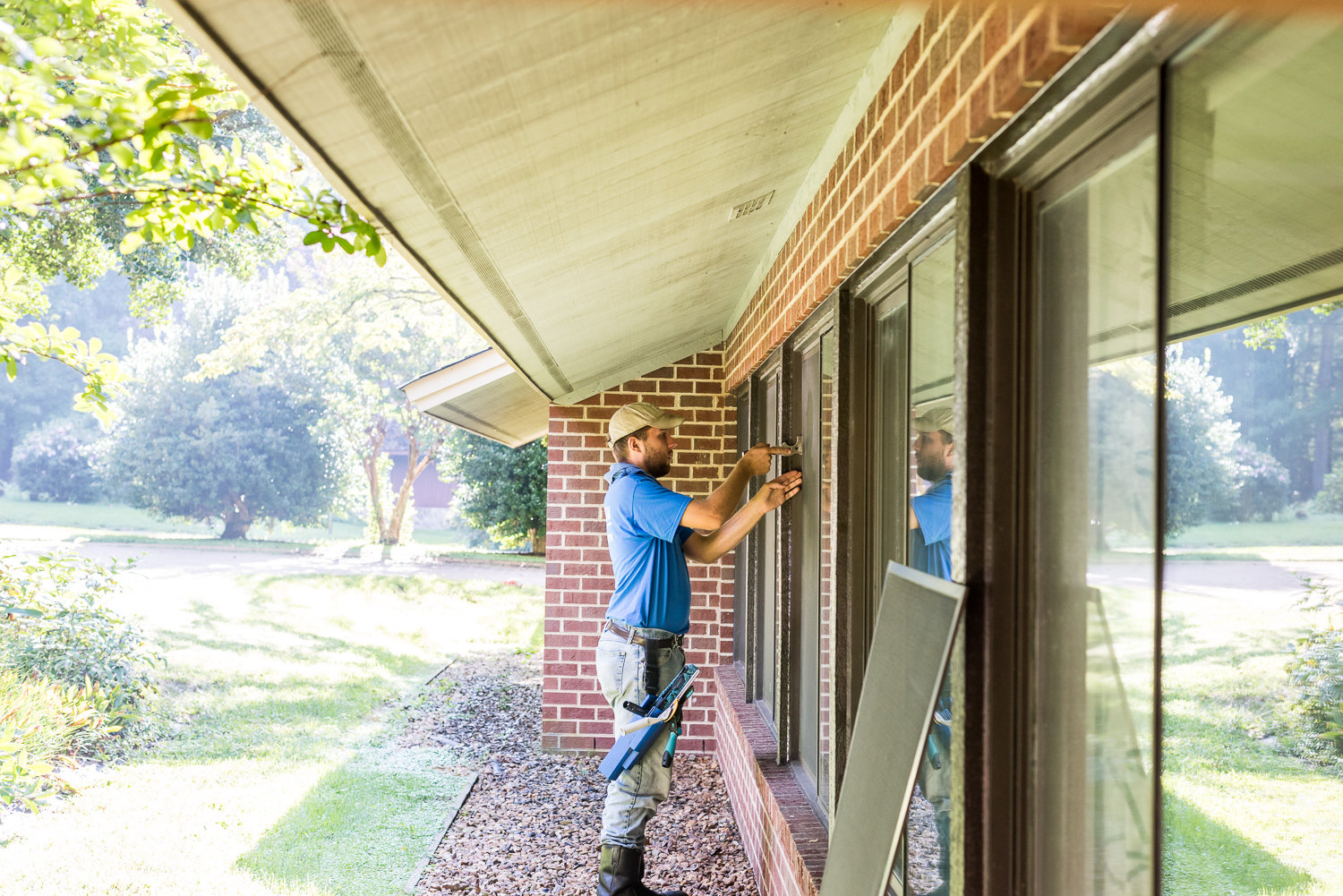 Special tools for the job.
Special tools for the job.
Special tools for the job.
Attaching new screen window.
Special tools for the job.
Our Services
See Through Window Cleaning has been in business since 2004 specializing in low-rise commercial and residential window cleaning in the Richmond Virginia area. For a full description visit our Rates and Services page.
Our Vision
Our vision is to Help People See Through their Windows by getting them clean and keeping them that way. This provides our customers with more pleasant and painless living environment which contributes to the well being of those we serve.
Our Values
The values to which we subscribe at See Through can be summed up by the Golden Rule "Treat others as you would want to be treated." Specifically this means we hold several principles at our core:
Customer service: We have an 100% satisfaction guarantee with all our work. If the service is not to your standard we make it right or you don't pay, simple.
Competency: All our window cleaners are trained to above industry standard competency so that we can do efficient high quality work. We strive to lead the industry in new levels of performance both in ability and tools of the trade.
Conduct: We strive to always conduct ourselves in a manner that reflects well to our customers as well as respects them and their property.
Care : We care about safety and do not take shortcuts. We subscribe to and have been trained in the International Window Cleaners Association (IWCA) safety standards material. We care about our customers and consider it our job to help make their lives and property better.
In short, a business must balance three areas to be competitive in the marketplace: cost, service, and quality. We are not the least expensive window cleaning company but our values motivate us to be competitively priced while keeping the service and quality high.
Our History
See Through Window Cleaning started in 2004 as an effort to support the growing family of Steve Donahue while he worked on planting a church in Central Virginia. The first jobs were acquired by door to door contact of businesses. Soon the reputation of See Through grew and business owners and others started wanting Steve to clean their residence. In 2007 See Through brought on its first employees. See Through continues to be operated significantly by Steve Donahue and it is not unusual to find him working side by side with one or more of his teenage sons!